Guidance Staff, Remind Codes, Tweets and Appointments
Ms. Pleterski, Guidance Administrative Assistant
Ms. Morgan Cook, Department Head and Gr 10 Counsellor
Mr. Knowles, Gr 12 Counsellor
Ms. Shosenberg, Gr 11 Counsellor
Mr. Howlett, Gr 9 Counsellor, Supervised Alternative Learning
Ms. Stone, Co-Operative Education Department
Ms. Batty, Student Success Teacher
Ms. Lough, Student Success Teacher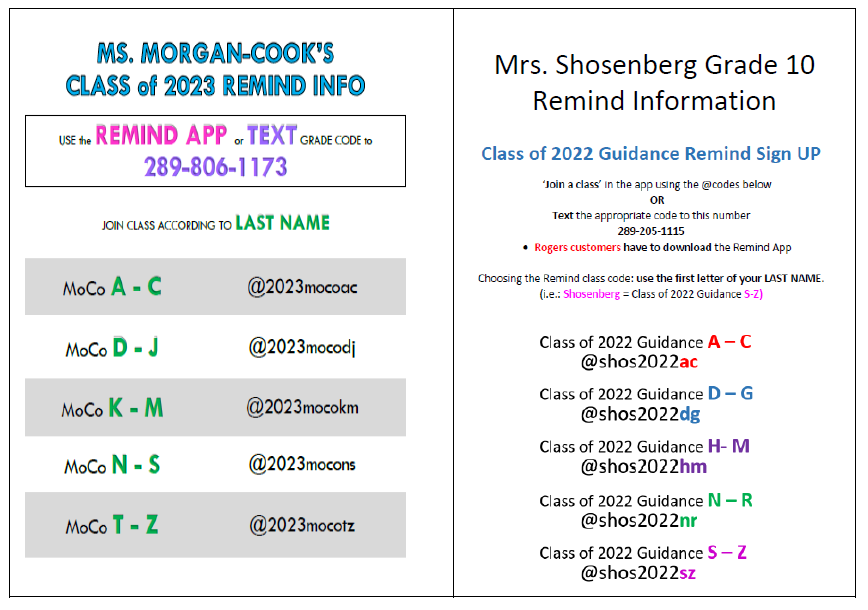 guidanceInterview

Guidance Appointments will now be booked online using student's
cellphone and/or email address. Students will receive a confirmation text/email at the time of booking and a reminder notification 20 minutes prior to the appointment time. Students will continue to come to the Guidance counter to book the appointment.
How a Student Can Add a Cellphone # and/or Email Address to
guidanceInterview to Receive Notifications:
1) Go to https://bhs-guidance.parentinterview.com
2) Enter your DDSB Student Number (excluding the "S") and
Date of Birth (YYYY-MM-DD) as the password, then click "Sign In"
3) You will be prompted to enter an email address, cellphone # (optional) and make a new password
OR
Come to the guidance office and ask the guidance secretary to add your information to the system. Thanks
Grade 8
In Grade 8 our Guidance Counsellors will be visiting our family of schools and classes in mid to late January. Our feeder schools include Blair Ridge PS, Brooklin Village PS, Chris Hadfield PS, and Winchester PS.
Our Grade 8 Information Night for parents is Thursday February 4, 2021 at Brooklin High School, 7:00 pm in the Cafetorium.
Gr 8 Parent Info Night Presentation
Grade 8 students tour Brooklin High School mid to late May of 2021.
This Choosing My Success document is a helpful resource for students and parents to assist them selecting courses for Grade 9.
Grade 9
Counsellor Mr. Howlett
The annual Grade 9 Take Our Student to Work Day is Wednesday November 4, 2020. See the Gr 9 Take Our Students To Work Day Family Guide for more information and permission form.

All of our Grade 9 students participate in this unique work experience.
Permission Forms will be sent to Gr 9 Homerooms shortly and are due to homeroom teachers by Friday October, 30, 2020.
Many, many organizations and workplaces have programs already in place to support the Gr 9 Take Our Students To Work program.
If students are unable to accompany parents to work for the day, then encourage students to participate in this important work experience with family friends, neighbours, and/or community members.
For more information and resources see The Learning Partnership website and the section for Parents/Guardians.

Gr 9 Only Day Orientation was originally scheduled for Tuesday September 8, 2020 and the parent presentation is posted. We had to cancel due to public health concerns and will do our best to orient our new Grade 9 students.
Gr 9 EQAO Assessment of Mathematics takes place near the end of the semester students take Grade 9 Mathematics, either at the Applied or the Academic Level.
Grade 10
Counsellor Ms. Morgan Cook
The Ontario Secondary School Literacy Test (OSSLT) is scheduled across the Province on Thursday April 8, 2021 and ONLY those students writing this provincial assessment need to attend on this day.
It is very important that all students who are writing attend on this day, as the OSSLT is a graduation requirement.
Our students will be well prepared as all students will have the opportunity to practice and receive feedback. For further practice visit EQAO.
We wish our students who are writing the OSSLT, the very best of luck!
On this important day regular school bussing schedules are maintained. There is no cafeteria services but a snack will be provided between the two 1.5 hour booklets.
We will solidify the schedule for the day as it approaches but historically the OSSLT schedule is posted here:
8:20 am

Students proceed to test rooms

8:30 am to 10:05 am

Students admitted to test rooms, tests distributed and instructions are read

Booklet 1 of the OSSLT

10:05 to 10:20 am

Break (refreshments provided)

10:20 – 11:35 am

Booklet 2 of the OSSLT

11:35 – 11:45 am

Time for questionnaire

11:45 am

Dismissal
Note 1: Identified students receive​ accommodations and extra time as per their Individual Education Plan.
Note 2: Regular school bus transportation is provided. There are no changes to bus schedules.
Note 3: Students and parents are encouraged to read the OSSLT 2019 Parent Letter that will be sent home via automated call and email; find here a link to the letter from last school year for your reference. OSSLT 2019 Parent Letter.pdf
Grade 11
Counsellor Ms. Shosenberg
This Refining my Pathway document is a very helpful resource for Grade 11 students and parents to help them choose appropriate courses.
Grade 12
Counsellor Mr. Knowles
Grade 12 Parent Information Night was cancelled due to COVID-19 protocols but we plan on posting the presentation, virtually, with a screen recording.
Here is a list of important dates for Grade 12 students and parents to note and schedule. It includes timelines and important graduation reminders.
Ontario Universities Application Centre is an application centre that facilitates Ontario University applications. Ontario Universities' Info is a comprehensive website that list all Ontario University programs and requirements. This resource is a must for university bound students!
Ontario College Application Centre has a comprehensive website at Ontario Colleges and it contains instructions on how to apply, listing of programs and requirements, deadlines and financial information, plus more.
At Ontario Transfer you can learn about tranferring courses, credits and programs among Colleges and Universities. This resource and website is useful for secondary students planning post secondary destinations and for current College students.
This Refining my Pathway document is a very helpful resource for Grade 12 students and parents to help them choose appropriate post secondary destinations.
The Designing my Future document is a planning resource for students and families heading to apprenticeship pathways, and/or college and university programs.
Bears Grad Breakfast is Thursday May 27, 2021, Period 1. This is a student celebration, in our Brooklin HS cafetorium. Unfortunately, this event was cancelled due to school closures.
Bears Prom is Thursday, June 24, 2021 at the Ajax Convention Centre. More information will become available as the date approaches. Unfortunately, this event was cancelled due to school closures.
Bears Graduation Ceremony is Tuesday, June 29, 2021 at 1:00 pm at the Iroquois Park Sports Complex, Pad 1. More information will become available as the date approaches. Unfortunately, this event was postponed due to school closures.
Grad Destination Survey will be completed in mid to late June by Graduates of 2021 outlining their final post secondary plans. We will post a link to the survey as the date approaches and it becomes available.
Grad Legacy Quote Survey is completed near the end of June before the end of the school year. We have the Grad Class vote on three or four quotes that the staff feel represent the Grad Class. The Legacy Quote is posted in the Forum. More information will become available as the date approaches.
Grad Photos are taken by Edge Imaging and are scheduled from Monday November 30, 2020 to Friday December 11, 2020. Grad Photos are by appointment. Go to http://bookmygrad.ca, use code kbi, and book your grad photo sitting appointment. Sitting fee must be paid before photos are taken. All Grade 12 students must have photo taken for graduation composite photograph that proudly hangs in the Forum, underneath the Grade 8 Class Photo!
Course Changes
Course Requests must be requested using the Course Change Request Form located in your guidance counsellor's individual Google Classroom. No requests will be considered via email or Remind.
Course changes are not guaranteed and are dependent on availability and cohort assignments. We cannot guarantee the order/placement of courses.

ALL COURSE CHANGE REQUESTS MUST INCLUDE PARENT/GUARDIAN PERMISSION. Permission is in the form of your parent/guardian's digital signature which is required for the request to be considered. No course changes are made unless a Parent/Guardian has signed the form.

You will be notified of the status of your Course Change Request via your Grade Counsellor's REMIND. You must be on the Remind to receive notification of the timetable change.
Be sure to attend your classes based on your current student timetable.
Please note: Until the student timetable change has officially been made to your schedule and you have received confirmation from your Guidance Counsellor, you are to remain in the current class.
Course Selection
1. Course Selection takes place in early February.
2. Grade Assemblies for course selection will take place in the first week of February.
3. Students choose courses on line using My Blueprint.
4. My Blueprint offers an internet-based tool for education, career and life planning, which guides students in developing their Individual Pathway Plan. It includes several activities to help students explore their skills and interests, possible careers, various opportunities, and diverse pathways.
5. The Course Selection deadline is Tuesday February 23, 2021. Course selection presentations are posted above as they become available.
6. Course Lists and charts provide an overview and list of all the courses we offer at Brooklin High School.
7. A good reference point is always the Course Calendar; access the Course Calendar for 2020.21 below.
Course Selection Application Forms
If you are applying to be a peer tutor (GLC2O8), take a leadership course (BOH4M1 or PLF4M1 – you can only choose/take one) or Yearbook (TGG3M1) you must fill out a google form in addition to requesting the course on your Course Planner.
Leadership Classes (BOH4M1 or PLF4M1)
Community Involvement Hours
Students need 40 Hours of Community Involvement to graduate with an Ontario Secondary School Diploma. Grade 8 students can start earning community involvement hours the summer between Gr 8 and 9. As a rule of thumb if students earn 10 hours per grade then they will graduate with the requirement. Students record their community involvement hours on a record card, getting their sponsor signature verifying the completion of the hours. Find below a copy of the Community Involvement Record Card.
Curriculum
Career Studies (GLC 2O1) is a Grade 10 open level required course.
Peer Tutoring is a senior level course for student leaders. There is an application process to be selected to the Peer Tutoring program.
Co-Operative Education (CWE 2O9) is a two credit work experience program where students actively participate in the workplace. See the link to our Co-Operative Education website under Departments > Co-Operative Education.
eLearning
For eLearning inquires contact your Guidance Counsellor.
Boundary Map
To register at Brooklin High School students must be living in our geographical catchment area. Our boundary map outlines the Brooklin High School catchment area. For more information please contact school administration.
Registration
Please find below the registration timelines and procedures for next school year, 2020-21.
We will be entering our 6th school year in 2020-2021 at Brooklin High School!
For Grade 8 students at our Family of Schools (Blair Ridge PS, Brooklin Village PS, Chris Hadfield PS and Winchester PS) we visit students at their schools in mid to late January. The internal registration and course selection process starts with these visits and Guidance Counsellors will be instructing Grade 8 students on how to complete course selection.
For Grade 8 students living in the Brooklin community and in our boundary but not currently in our above listed Family of Schools, contact our Guidance Department for a group registration appointment February 18-20.
Note our Grade 8 Information Night for parents is Thursday February 6, 2020 at 7:00 pm.
For current Brooklin HS students in Grade 9, 10 or 11 we will begin internal Course Selection procedures in February with course selection assemblies for Grade 9 and 10 students on Tuesday February 4, 2020 and for Grade 11 and 12 students on Wednesday February 5, 2020. For Grade 10 and 11 students, Guidance counsellors will be visiting classes throughout February to provide course selection information.
For Grade 9, 10, and 11 students living in the Brooklin community and in our boundary, but not currently attending Brooklin HS, contact our Guidance Department to inquire about registration. Check in with our Guidance Department for required documentation for registration after our Internal Registration is complete.
Finally, please note Friday February 28, 2020 is our Course Selection Deadline for all students. Anyone registered after this deadline will not be considered on an equal basis for student timetable and programming availability. Registration after February will take place once the school timetable is solidified.
Feel free to contact our Guidance Department for further inquiries.
Scholarships
The Brooklin High School Guidance Department has prepared this document and summary, BHS Scholarship Presentation, outlining scholarships and bursaries. A great place to start!
For general information on scholarships please read this BHS 2020-21 Scholarship Information sheet for Grade 12 students. This sheet also has some good links for scholarship research.
The BHS Scholarship Form is to be completed by all grade 12 students who would like to be considered for Scholarship Nominations. The information provided will be used by the Guidance Department to determine who should be chosen for scholarships that require a school nomination. It is imperative that students notify Guidance of the specific scholarships they are interested in pursuing. This information will also be used in consideration for Commencement
Awards.
We have compiled a list of Ontario University Scholarships for your information, too. We will send out via the Gr 12 Remind messaging system.
See your Guidance Counsellor for more information regarding Scholarships, Awards and Bursaries.
Specialist High Skills Major Programs
At Brooklin High School we have three (3) Specialist High Skills Major Programs (SHSM).
Agriculture
Environment
Sports